Data Collection with Weigh-In-Motion Scales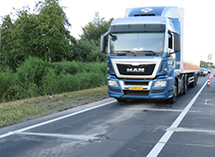 Data Collection in Europe
Transportation officials rely on Weigh-In-Motion (WIM) sensors for collecting vehicle data at high speeds for highway data and traffic monitoring. Traffic volume, speed, axle counting and spacing, vehicle classifications, and vehicle weights are all part of monitoring current usage and highway planning for the future.
Weigh-In-Motion Strip Sensors
Typical Sensor Configuration

Strip sensors for data collection incorporate strain gauge sensor technology:
WIM site installation employs two sensors, loop, and electronics
Provides Accurate Data for Roadway Monitoring & Planning
Detection of Overloaded Vehicles & Incidence
Integrate Sensors in Existing Pavement or during Site Replacement
Stable readings with environmental fluctuations of temperature
Minimally invasive in-ground installation
Does not require frames or drainage
Maintenance free operation
Integrate with variety of electronics
Intercomp WIM strip sensors are also used in screening for enforcement, tolling (ETC), ports of entry or departure, and bridge and pavement protection.

Top

Top