Simplified SOLAS Solutions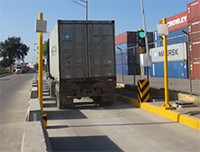 Cargo, Container, and Vehicle Weighing for Shippers, Yards, Ports, and Terminals
There are opportunities for weighing at multiple points along the supply chain for inland intermodal and overseas shipping. Ranging from weighing cargo in the process of packing the shipment, to rapid screening of containers and vehicles at high volume gates, Intercomp has sensors and scales to meet the weighing requirements.
Having accurate cargo and container weights has 3 primary benefits:
Safety, Compliance, and Efficiency.
For overseas shipments, IMO SOLAS Chapter VI guidelines require Verified Gross Mass (VGM) for container weights, with two different methods to obtain the VGM:
Method 1: Weigh the packed container directly, or use weights from vehicle transaction
Method 2: Weigh each item loaded into container and add tare weight of empty container
Dynamic Weighbridge Method 1


Weigh-In-Motion (WIM) Scales are used to acquire Gross Vehicle Weight (GVW) of Tractor and Chassis without stopping the vehicle. The Curb weight is subtracted to obtain Verified Gross Mass (VGM) of the container. Static weighbridges have been used in the past, but operators can speed up automated gate processes using these scales and sensors at low to medium speeds of 3mph (5kmh) to 30 mph (48 kmh) or even higher speeds.
Inbound weight screening:
For operators that already have a declared VGM on the Bill Of Lading (BOL), dynamic weighbridges allow vehicle lanes to be used for vehicle screening. Declared weights can be rapidly compared to incoming weights to identify overweight or underweight situations.
Outbound weight screening:
Where legislation requires outbound traffic to have Axle and Gross Vehicle Weights (GVW) within legal limits, dynamic weighbridges can screen vehicles and identify situations where cargo loads need to be adjusted to meet weight requirements.

Top
Obtaining VGM by weighing the container can be accomplished by under container weighing, or suspending the container with weighing devices.

These are simple and cost effective techniques that use certified scales for multiple purposes. For shippers determining VGM for lower-volume operations, under-corner weighing or suspended weighing are excellent options.


Portable Scales enable under corner weighing, or weighing of bulk cargo that has unique dimensions.