News & Press Releases
Filter by:
See the Benefits of Intercomp's Hub Plate Scale System
June 21, 2019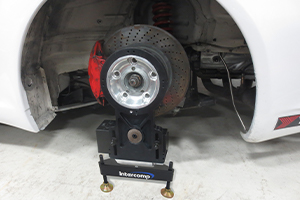 Intercomp's
Precision Hub Plate Scale System
eliminates the need for a dedicated set of setup wheelsand tires, producing more repeatable and precise results and freeing up space for additional items in a tow vehicle or trailer.
Aside from removing possible inconsistencies from the corner balancing process, the scale system provides the ability to perform a four-wheel alignment. Easy access to suspension components further simplifies this necessary process.
Additional Benefits:
360° Ball Transfer Bearing Technology Eliminates Suspension Bind
Adjustable Levelers with Steel Inserts Create a Level, Low-Deflection Weigh Surface
Includes RaceWeigh™ Software and Wireless Node for PC Interface
Fully-Enclosed Load Cell Protected from Damage