News & Press Releases
Filter by:
In Memory of Bruce Rhoe
August 8, 2019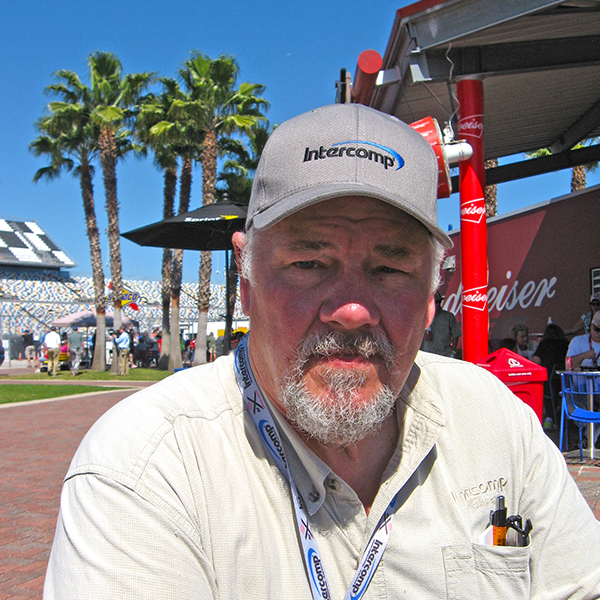 Bruce Rhoe, Racing Sales Representative of Intercomp Company for over forty years, passed away after a courageous eighteen-month battle with Pancreatic Cancer. Bruce was Intercomp's first employee. In his career at Intercomp, he helped to form connections with all major racing-sanctioning bodies to make Intercomp the Official Scales and test & measurement equipment of everything from World of Outlaws to ARCA, to SCCA.
Bruce was extremely enthusiastic about all forms of Motorsports, and he developed a special appreciation for dirt racing as he grew up going to the dirt track with his parents, George and Irene Rhoe. He made a career out of attending racing events and shows while supporting racers in any way he could; the racers were his friends as much as they were customers. Bruce built and maintained a relationship with NASCAR, who uses Intercomp Scales exclusively for inspection of the Cup and Nationwide/Truck Series, while also energetically supporting all of the major teams in the garages.
With over forty years in the scale industry, and thirty-plus years specifically serving the motorsports market, Bruce was known for his knowledge of scales and high-performance precision measurement devices. Bruce was also respected for his experience in every form or racing and his passion for motorsports competition and the competitors themselves. Bruce is survived by his mother Irene Rhoe, loving wife, Cindi, and their dogs. He will be greatly missed by everyone at Intercomp and also hundreds, if not thousands, of racers in all forms of motorsports. Godspeed to Bruce.