News & Press Releases
Filter by:
Joe Gibbs Racing Captures NASCAR Title with Intercomp Measurement Equipment
December 10, 2019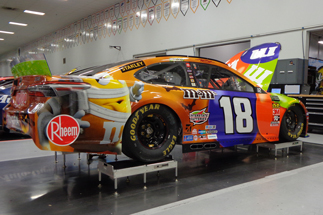 FOR IMMEDIATE RELEASE
Joe Gibbs Racing Captures NASCAR Title with Intercomp Measurement Equipment
Minneapolis – Intercomp congratulates Joe Gibbs Racing (JGR) on capturing the 2019 NASCAR Monster Energy Cup Championship with Kyle Busch, in the No. 18 Toyota Camry. This is the seventh successful championship bid for the team, from Huntersville, N.C., and the second career title for Busch. Behind Busch in the championship were teammates Martin Truex, Jr., finishing second, and Denny Hamlin, in fourth.
The team, long-time users of Intercomp racing scale systems and measurement equipment, uses the Microflex™ Wireless scale System on each of its four Cup Series cars to achieve the highest level of performance each time the racecar is on track. The four-load cell design reduces unwanted deflection to an absolute minimum, and helps produce the top-notch performances displayed throughout the season by all JGR drivers.
"It's been a difficult time [in reference to the death J.D. Gibbs, former team president and son of team owner Joe Gibbs]," Busch said. "To be able to reward them with a championship, I don't know how much it means to them, but it's the best I can do. I know J.D. was looking down on us all season long."
Intercomp salutes each member of the Joe Gibbs Racing organization on a championship-winning 2019 campaign, and we look forward to continued success next year. Intercomp is proud of JGR's exclusive use of Intercomp scales and measurement products, and we appreciate the business from all NASCAR teams.
For further information, please contact Intercomp Racing Sales at 800-328-3336, worldwide +1 763-476-2531, fax +1 763-476-2613 or write Intercomp, 3839 County Road 116, Medina, MN 55340-9342 USA. Feel free to contact us by E-mail at
highperf@intercompcompany.com
or visit us on the web at
www.intercompracing.com