Enforcement (In-Ground)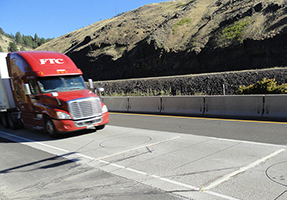 Screening for Enforcement in the United States
Weight Enforcement is vital to minimize the damage caused by overloaded vehicles to roads and highways, and to increase safety for the operators. Detection and identification of these vehicles is done at low (LS-WIM) and high-speeds (HS-WIM.) WIM is an efficient and effective method for screening and pre-selection of vehicles for static weigh stations, and direct enforcement of weight violations where legislation incorporates Weigh-In-Motion capabilities.
Weigh-In-Motion Strip Sensors
Typical Configurations


Strip sensors for screening, pre-selection, and direct enforcement incorporate strain gauge sensor technology:
WIM site installation employs four to six sensors, loop, and electronics
Consistent Accuracy for Selection of Vehicles from Screening
Improve Vehicle & Operator Safety
Simple Integration of Sensors into Existing Enforcement Systems
Stable readings with environmental fluctuations of temperature
Minimally invasive in-ground installation
Does not require frames or drainage
Maintenance free operation
Regions can have different requirements for accuracy of systems employed in enforcement WIM applications. ASTM E1318, COST 323 A(5) and COST 323 B+(7) are standards commonly referenced for these sites. Four (two pair) or six sensor (three pairs) installations have been used in countries for these applications. Intercomp strip sensors have undergone OIML R134 performance certification testing.
Strip sensors are also used in data collection, tolling (ETC), ports of entry or departure, and bridge and pavement protection.

Top