News & Press Releases
Filter by:
Watch Intercomp's Line of Shock Dynos
February 25, 2019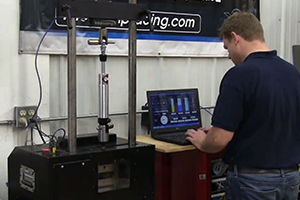 Intercomp's
complete line of shock dynos
is the user-friendly way to measure shock rates for any racing or high-performance application. The recently introduced 8hp Variable Speed Dyno is suited to run high-force shocks, like those found in mountain bike, OEM road vehicle, off-road racing and powersport applications. The 3hp Variable Speed and High Speed models are ideal for use with most auto racing applications, including dirt oval, paved oval, drag and road racing.
Intercomp's custom, easy-to-use Shock Dyno Software comes pre-loaded on a dedicated laptop for plug-and-play setup. The intuitive program allows a racer, or shock builder, the ability to see exactly how changes to the internal build affect compression and rebound rates in order to dial in the optimal rate curve for any racecar.
Additional Benefits:
Tension/Compression Load Cell Included Standard for Superior Accuracy
3hp & 8hp Models for a Variety of Shock Applications
Field-Proven Durability with 15 Years of Design Development
User-Friendly Software Loaded on Dedicated Laptop, Included with all Dynos
Learn more about these products.