News & Press Releases
Filter by:
View Features of Intercomp Aircraft Platform Scale Carts
March 15, 2019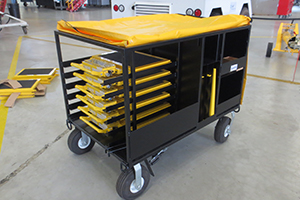 Intercomp's industry-leading aviation products provide weight and balance operations with unmatched quality in certified platform scales. Offering the low-profile
AC15-LP™
,
AC40-LP™
,
AC60-LP™
platforms alongside the
AC30-60™
, the video shows Intercomp's storage and transportation carts, which are available for these scales and scale system accessories.
The scale carts are an integral part of how Intercomp platform scales can be transported, deployed, stored, and maintained in top condition to save owners time and money for weighing operations over the long lifetime of the fully-electronic scales.
Benefits:
Store Entire Weighing Kit in One Location
Compact, Easily Transportable Design
Scales, Ramps, Spacers, Stops, and Accessories
Protect all Kit Items from the Elements
Safely Transport and Deploy Scales in Multiple Locations
For more information on Intercomp's Aircraft Scale Systems,
click here
or call 1-800-328-3336.