News & Press Releases
Filter by:
Dynamic Weighbridge Scales for Automated Gates
April 26, 2019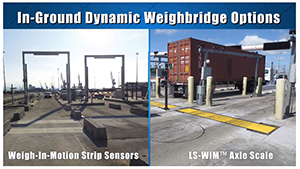 Providing scale systems for over 40 years around the world, Intercomp's Weigh-In-Motion (WIM) technology replaces static scales to eliminate traffic bottlenecks at gates. Installed into vehicle lanes, the OIML certified
scales
and
sensors
provide axle, vehicle, and cargo weights without having to stop on the scales for inbound or outbound traffic.
By integrating the WIM scales into existing automated gate systems, weights can be associated with vehicle records to rapidly process transactions while increasing safety, efficiency, and compliance with regional weight regulations.
Possible Applications:
Marine Terminals
Ports of Entry
Intermodal Terminals
Distribution Centers
Axle and Gross Vehicle Weight (GVW) Screening
Features: WIM technology keeps traffic moving. Integrate the scales and sensors into existing automated gate systems to add weight data. Minimal civil works compared to static truck scales. Multiple options for site considerations, or low to higher speeds.
Components: LS-WIM™ Axle Scales, Intercomp Strip Sensors, Vehicle Loops or Detectors, CPUs, Electronics, and Software.